I sent in an application at virtually the last minute, but it seemed like too good an offer not to throw my hat in the ring: Flown to Sydney to participate in a two-day summit discussing the implementation of the Digital Technologies strand of the Australian Curriculum, hosted by Google.
The application required the usual details, some short sections on how you use technology and, here's the kicker, a one minute, vision-statement video.
I've made videos before, I know how long it can take to make even just a short one. This was a long-shot, and I didn't want to waste much time. I threw something together, uploaded it to Youtube, and pressed submit. It's embarrassing, but I suppose I should
link
to it.
Miraculously, my application was successful, and here I am, at Google HQ in Sydney, about to meet some great folks, learn a lot and hopefully pick up some great ideas.
Day 1
Computer  science is an important skill in our society
The demand for people with CS skills is greater than the number of graduates
We can address this by teaching computational thinking (see this seminal article)
Computational thinking is as important as literacy and numeracy
Google has done a lot of work defining what computational thinking is, and how we can teach it
The core of their definition is Abstraction: the ability to take a complex situation and reduce it to its important features
Pattern recognition was the other key skill she discussed
Combining these allows you to take a pattern-to-program approach to coding (at Google they have students code in python)
Interestingly, for teaching purposes they also had students work on program-to-pattern problems: run numbers through commands and investigate patterns in the output data
Digital Technologies Update: ACARA Julie King
Digital Technologies will form part of the Technologies stream along with Design and Technology
Core of subject is around: 

Computational Thinking, Design Thinking and Systems Thinking

Aim is take make students creators of technology, not just users.
Will be taught F-8 to all students, and as an elective subject from Year 9.
ACARA will be working closely with Scootle to produce resources for teachers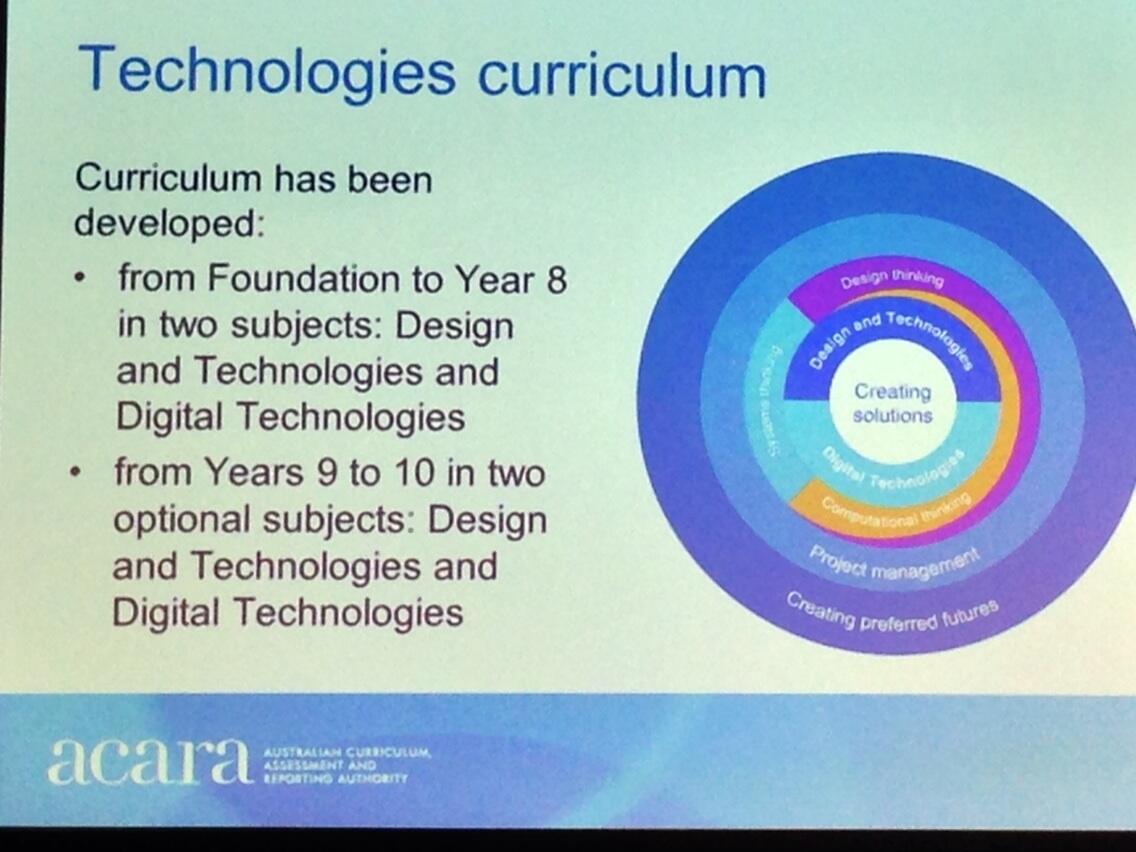 From e-learning to free learning: Dr Chris Tisdell
The future of education is: online, on-demand, mobile.

Youtube is a powerful tool for scaling teaching and allowing students to control their consumption of his teaching content
Doesn't require a lot of know-how or equipment to get started
Analytics helps him to data mine student learning activities
However, lacks the personal touch. So Tisdell uses Google Hangouts to provide live webinars where he can respond and give feedback to students
He has also written a large, free text book to accompany his Youtube channel
Computational thinking does not require computers
Foundational core skills (which can be very sophisticated) can be taught through simple and fun activities
There are some excellent teaching resources through CS Unplugged and CS Field Guide
Unconference Sessions
Computation thinking and digital technologies should be embedded across the curriculum
We can use new language and approaches (possible moving away from coding) as ways to engage with reluctant students
Need new models of professional learning (primarily face-to-face and buddying) to help colleagues upskill
Focus, as always, should be on good pedagogy
Student-centered learning and project-based learning are important directions
Transparency in syllabus design and providing student voice and choice
School structures (logistical, administrative and even physical) need to change to facilitate, rather than impede these changes
Open classrooms with observation as the norm helping teachers learn from each other
Need to sell the message to get parents and communities on board
Day 2
CS Unplugged 
Activity 1: Using "bit cards" to explore how numbers and letters are encoded in binary.
Activity 2: Treasure Hunt (Finite state automaton)
Can be drawn for stopwatches, microwaves, DVRs, etc, etc
Activity 3: Information Theory. How much information do you need to define a number?
For a number less than 8, it is only 3. But, in compression algorithms we can use assumptions about the data in order to narrow down the range. The assumptions are based on context – what does the data (eg colour in an image) look like around the one you are encoding.
Activity 4: Sorting Algorithms. Pairwise comparisons (select and sort).
Chris made a great time-lapse of the process
here
.
Nick is an academic at Adelaide University, doing amazing things in the School of Computer Science. He is part of a team launching a new program with Google which will "help teachers encourage the next generation of students become the creators rather than consumers of digital technology"
 He asked us to explore:
Ideas
Resources
Community
Scale of effort
Nick asked to consider where these things have come together for us. How did it work for you?
This is what our group put together:
Key take-home for me was encapsulated in the central diagram: PD should happen in classroom, to students and teachers at the same time! Great idea Phillip.
Why do computer science? Fun, change the world, be ready for the world.
FIRST Robotics
Just the setup looks exciting. Can't wait to have at it!
Such a great session that I didn't get a chance to take many process shots, but here are some of the robots our groups put together.
The EV3 systems (both the hardware and software) are a great incremental improvement on NXT and Mindstorms, but a still completely intuitive for people experienced on the old platform. Had a blast.
HUGE thanks to Google for an amazing Summit. It was great to meet up with so many passionate people and share ideas. Much to think about (and implement!).
This slideshow requires JavaScript.
(For conference tweets, search the hashtag #googledigiteach on Twitter. Storyfied
here
)